"In his figurative work, GUSTAVO RAMOS (b. 1993 Brazil) not only delivers technically superb paintings, but also captures the human spirit. Expressions, body language and postures are both impeccably depicted and incredibly vibrant. This is why Ramos is rapidly becoming one of the most sought-after portraiture artists and his oil paintings have been exhibited at world-class venues, including the European Museum of Modern Art in Barcelona, the Rijksmuseum in Amsterdam and Sotheby's in New York City." —Scottsdale Artists School, 2022 Catalog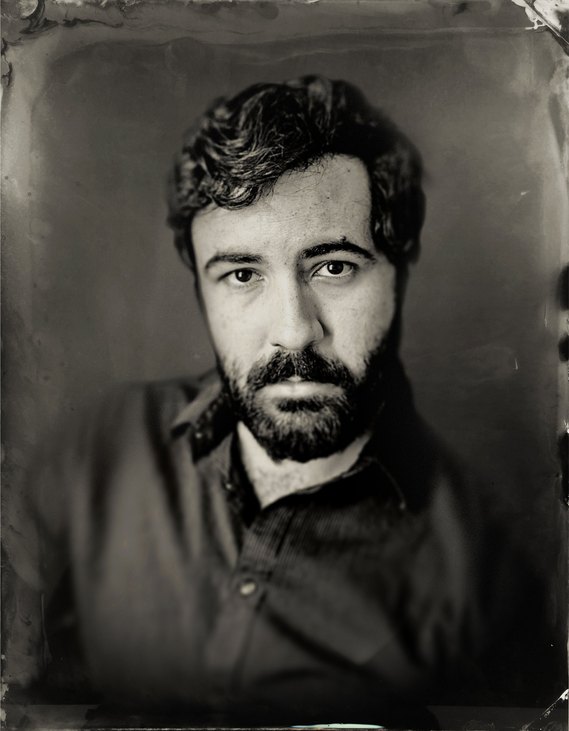 Featured in Southwest Art Magazine's "Artist to Watch: The Editor's Choice for Up-and-Coming Talent"

AS A YOUNG boy growing up in Brazil, Gustavo Ramos loved to draw, but a fine-art career wasn't even a notion in his mind. Then, when he was 15, Ramos moved with his family to the United States. The change was startling for the teenager, who didn't know any English when he arrived at his new high school in Arizona. "I had to depend a lot on observing body language when trying to communicate" Ramos recalls now, a decade later.
It proved to be a seminal time for the budding artist, whose careful observations of people's expressions, gesticulations, and postures motivated him to depict the figure in pencil. "It gave me an edge in depicting those subtle bodily gestures that help tell a story," he says. Determined to paint like the old masters, Ramos exclusively worked from life during his training. Now, when using reference photographs he has taken of his models, says Ramos, "I can conceptualize form. I'm able to look at the flat surface of a painting and picture space inside that surface."
At 26, the Phoenix-area artist is already snapping up top accolades for his sensitive, contemporary portrayals of the figure in oil. In works like INFINITY—a painting starring his wife that touches on the mystery of life after death and the concept of eternity—he has been exploring storytelling techniques that convey more than just someone's likeness. For guidance, he often studies Rembrandt van Rijn's evocative portraits. "Rembrandt created the sense of a real person who had real experiences," says Ramos. "That's something I try to do with my work." —Kim Agricola
Southwest Art, March/April 2020 issue
EDUCATION
Southern Virginia University | BA 2017
Florence Academy of Art | Summer 2018
AWARDS
2021

Boynes Emerging Artist Award - Finalist
"People and Figures" International Artist Magazine - Finalist
2019

Year of Rembrandt International Contest, Royal Talens - Winner
Artist's Magazine Annual Competition - Top 10 Finalist
Artistic Excellence, Southwest Art Magazine - Runner-Up
Art Renewal Center Salon - Staff Award
ARC Featured Artist Award - Springville Museum of Art

Portrait Society of America International Competition - Select 50

2018
James C. Christensen Scholarship
The John F. and Anna Lee Stacey Foundation Fine Art Award
2017
Manifest Gallery, International Drawing Annual - Finalist
The Florence Academy of Art Summer Scholarship
The John F. and Anna Lee Stacey Foundation Fine Art Award
Southern Virginia University Annual Art Show – Best of Show
2016
The John F. and Anna Lee Stacey Foundation Fine Art Award
1st Place – Greater Arizona Winston Visual Art Competition
Meridyth M. Kidd Memorial Arts Scholarship
SVU's "The Review" Literary Journal - First Place Artwork Award
PRESS
2023
"The Paintings of Gustavo Ramos" Feature Article - Southwest Art
Society of Classical Poets, Journal XI featuring "Portrait of a Girl"
"Gustavo Ramos: The Evolution of a Master Artist" - AATONAU
2022
Think Big by Painting Small with Gustavo Ramos - Artists Network Illuminate Event
Gustavo Ramos: Layers of Refinement - Art's Cool Podcast
"Illuminated Form: The Paintings of Gustavo Ramos" Artists Magazine May/June Feature Article
Society of Classical Poets, Journal X featuring "Mother and Child"
"4 Stages of Bringing A Portrait to Life: An Oil Painting Demo" - Artists Network
2021
Society of Classical Poets, featuring "Longing" Journal IX page 14
Boynes Emerging Artist Award - Interview Article
International Artist Magazine issue #138 "People and Figures"
Arcadia Contemporary Promo, "Woman in Red" featured in 1st page of American Art Collector, Feb.
2020
"Artists Making Their Mark: Three to Watch" Fine Art Connoisseur - September/October
Blank Magazine NYC - December 2020 issue
"Artist to Watch: The Editor's Choice for Up-and-Coming Talent" Southwest Art - March/April

The Best of Drawing, Front Cover - Winter 2020 Issue
Royal Talens 2020 Calendrier des Papiers

2018
Southwest Art Magazine – 21 Under 31: Young Artists to Watch –September
The Artist's Magazine – Shades of Gray Competition – May
International Drawing Annual INDA12 - Manifest

Poets and Artists Magazine – Figurative Realism – 100th Issue
The Circle Foundation – Quarterly Art Review – Spring Issue
ARTIT Magazine – Issue #3 Front Cover
2016
FSTOP Feature Article - "Gustavo Ramos - Drawing Human Narratives"
Southern Virginia University - "Student to Exhibit Artwork at Lexington's Nelson Gallery"
Southern Virginia University - "Gustavo Ramos Awarded 2017 Stacey Scholarship"
SVU's "The Review" Literary Journal - Front Cover

EXHIBITIONS
2023
Arcadia Contemporary - SoHo 5 and Under Exhibition
2022
ASU Gammage - Featured Artist Exhibition
"Home Again" Art Show
2021
FOUND:RE Contemporary - Artlink 21st Juried Exhibition
Arcadia Contemporary - SoHo Grand Opening
2020
FOUND:RE Contemporary - Portraits and Icons
Springville Museum of Art - ARC Featured Artist

Rijksmuseum - Royal Talens Year of Rembrandt

Sotheby's NYC - ARC Salon

2019

Collins Galleries - Small Works

MEAM European Museum of Modern Art, Barcelona ES - ARC Salon

Springville Museum of Art, Springville UT - Spring Salon

2017

Southern Virginia University, Buena Vista VA - Senior Art Show
Nelson Gallery, Lexington VA - Portraits